The Broad Side, the Council's bimonthly publication, features personal stories, book and podcast recommendations, short dispatches from around the state, and brief items for further exploration. These items aren't necessarily tied to ongoing Council grants or programs. Instead, they provide our readers with interesting historical and contemporary notes, ideas for reading or travel, and unique perspectives on the humanities from all around West Virginia.
The Broad Side aims to embrace a spirit of intellectual adventure, and invites you to join us in exploring the West Virginia roads—real and imaginary—that often go less traveled.
Click the thumbnail to download a PDF of any issue below. Newer issues are at the top of the page, older issues at the bottom.
Print copies are mailed every other month to our donors and members. If you're interested in contributing to the humanities in West Virginia, click the Donate Now button at the top of the page to review giving opportunities.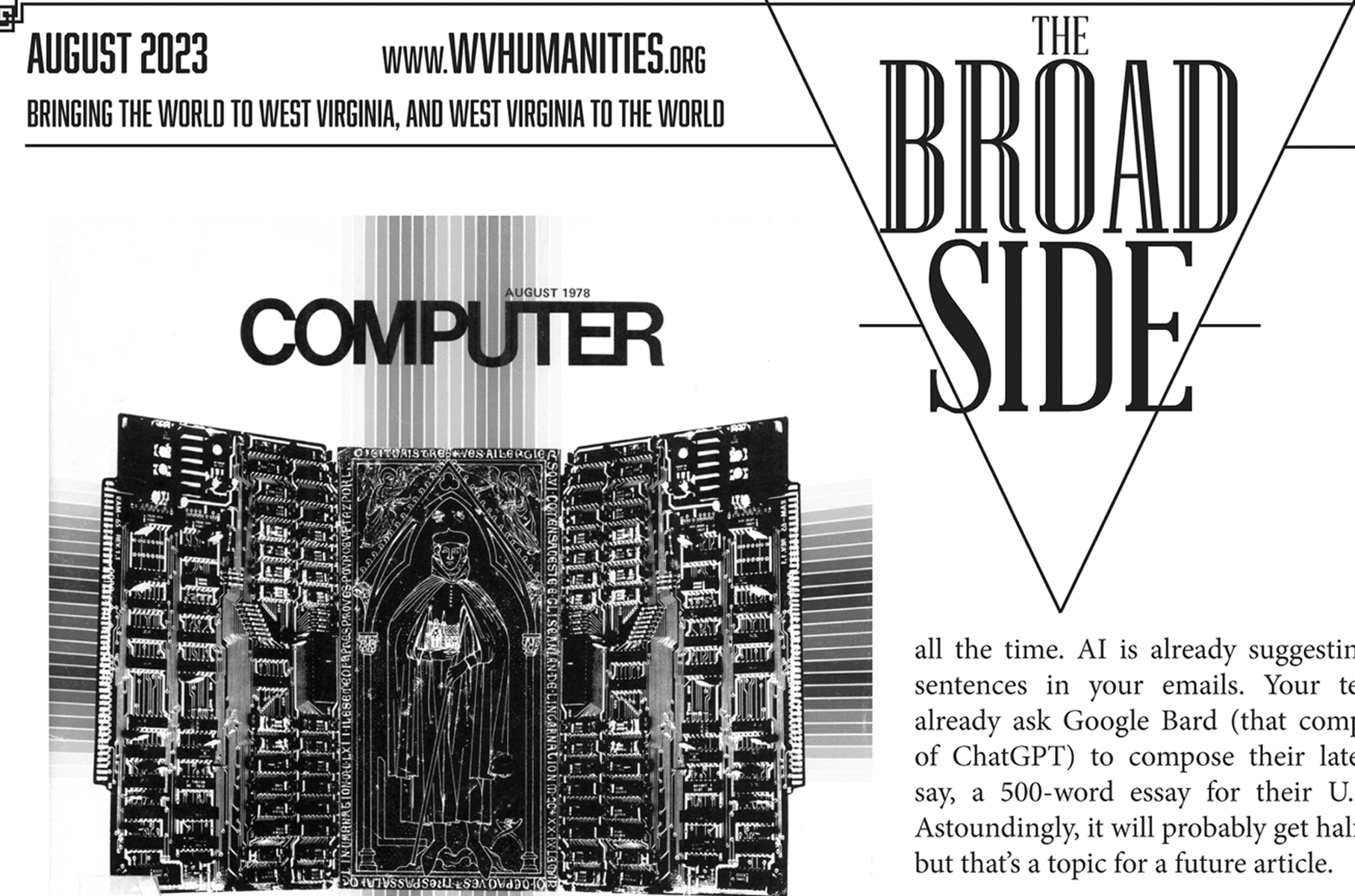 August 2023 Articles: Technology and AI in the Humanities; Blood County (Fairmont author Doris Piserchia); Aviator "Tick" Lilly. Issue authors: Stan Bumgardner, Eric Waggoner, Kyle Warmack.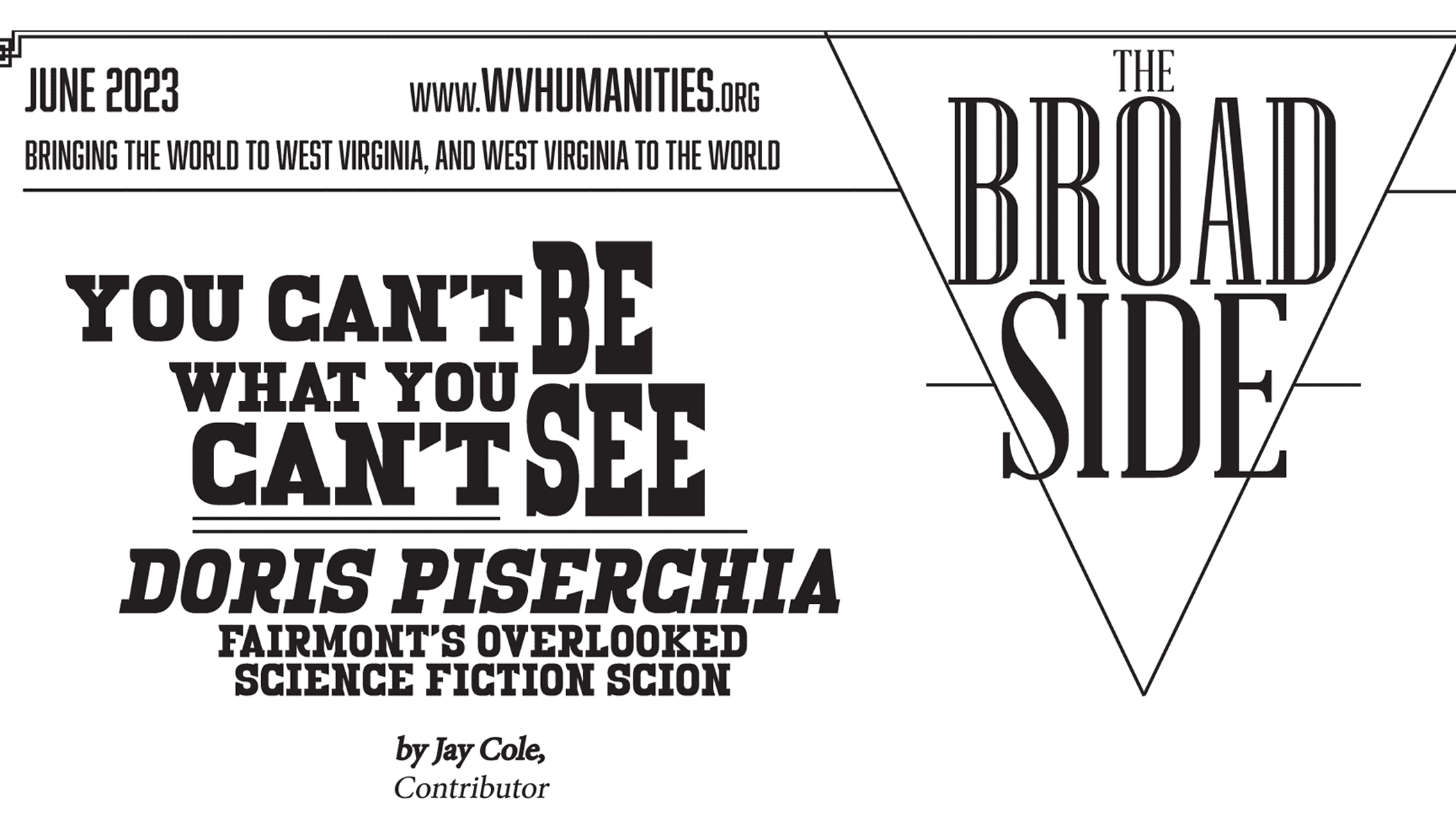 June 2023 Articles: You Can't Be What You Can't See (Fairmont sci-fi author Doris Piserchia); A Small Black Mule Rides Again (Hinton mule Leroy Jones); Connections Across the WAVES (WWII Navy telegrapher Clara Riggs). Issue authors: Jay Cole, Council Staff.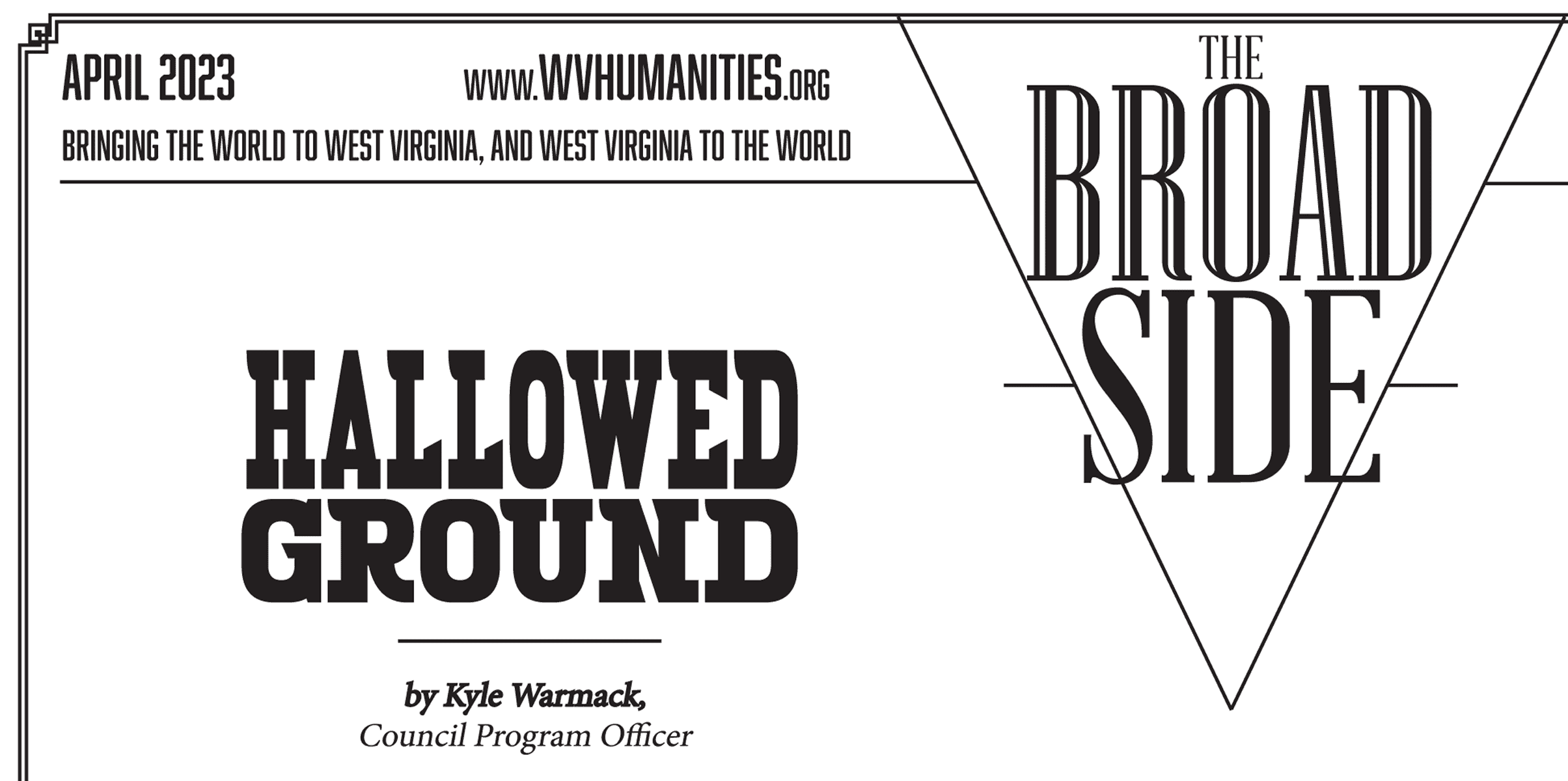 April 2023 Articles: Hallowed Ground: The West Virginia National Cemeteries Project; Roll of Honor; Events: April-May 2023. Issue author: Kyle Warmack.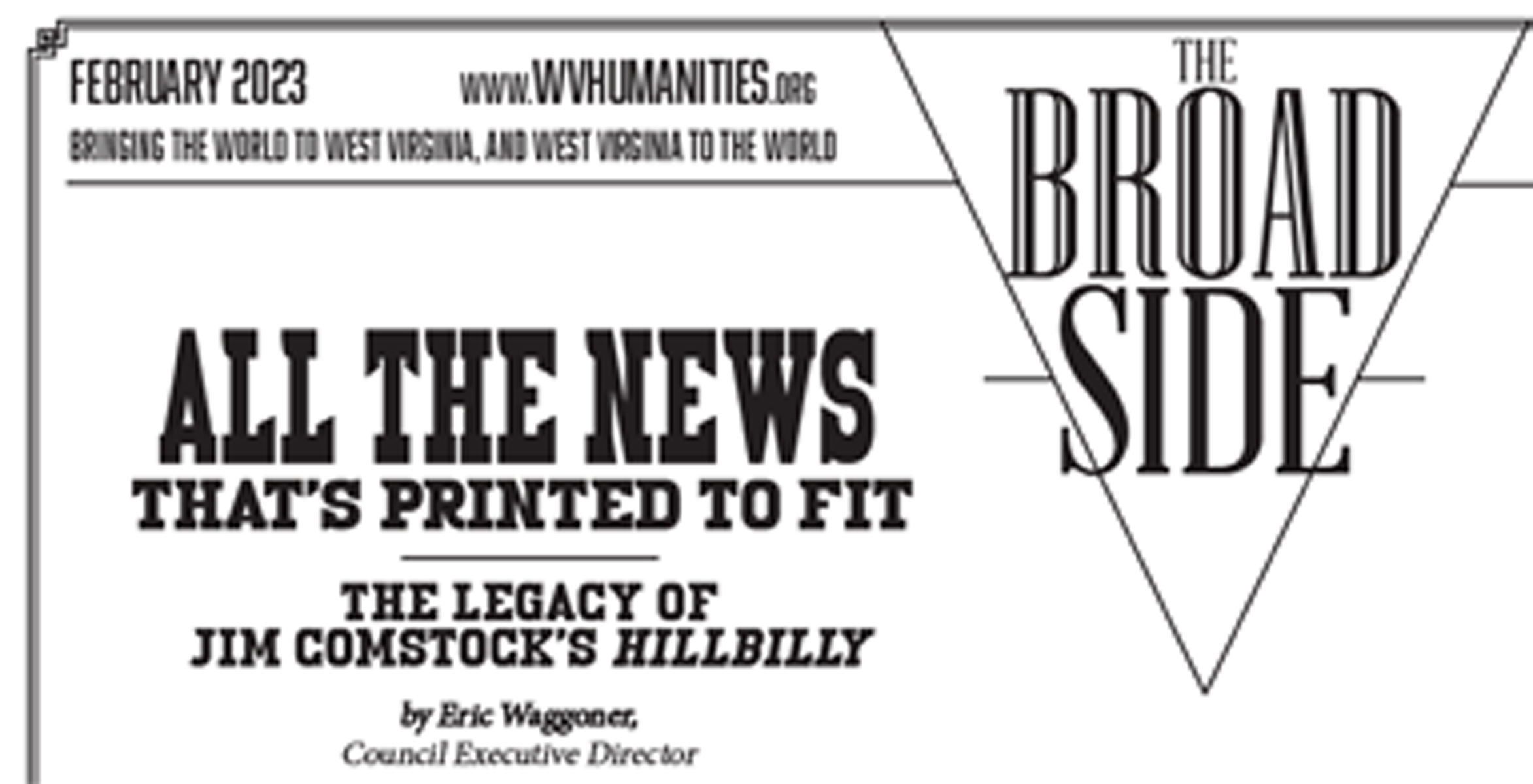 February 2023 Articles: All The News That's Printed To Fit (The Legacy of Jim Comstock's Hillbilly); Heritage Champion (The Life and Loves of Jane George); West Virginia Man Wins Dubious Literary Honor (Bulwer Lytton Fiction Contest). Issue authors: Eric Waggoner, Council staff.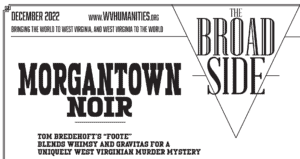 December 2022 Articles: Morgantown Noir (Tom Bredehoft's novel Foote); She Gives Not An Inch of Ground (Bluefield baseball player Marcenia "Toni" Stone); Sounds of the Future (Star Trek composer Jay Chattaway's papers at WVU); They Knew Too Much (Gray Barker's UFO papers at the Clarksburg library). Issue authors: Kyle Warmack, Stan Bumgardner.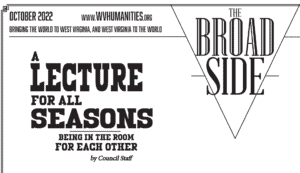 October 2022 Articles: A Lecture for All Seasons (McCreight 2022); The Sign of the Five (West Virginia detective authors). Issue authors: Kyle Warmack, Council staff.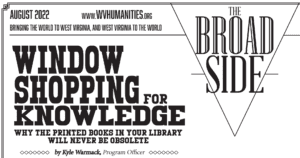 August 2022 Articles: Window Shopping For Knowledge (Library Books); Mother of the Regiment (Laura Jackson Arnold); Readers' Poll. Issue authors: Kyle Warmack, Jeffrey Webb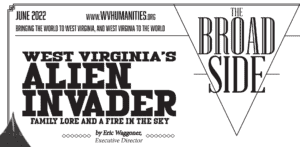 June 2022 Articles: West Virginia's Alien Invader (Flatwoods Monster); A House Divided (review of novel Mingo by W. Jeff Barnes). Issue authors: Sudhakar Jamkhandi, Eric Waggoner.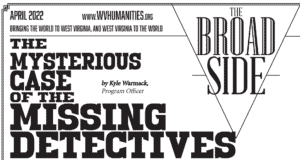 April 2022 Articles: The Mysterious Case of the Missing Detectives; A Life of Crime: Discovering My Family and the Goodman Gang. Issue authors: Jennifer Cline, Kyle Warmack.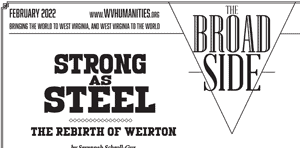 February 2022 Articles: Strong As Steel: the Rebirth of Weirton; The Needle Points The Way: Needle felting with artisan John Terry. Issue authors: Dan McCarthy, Savannah Schroll-Guz.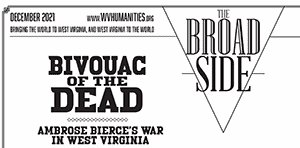 December 2021 Articles: Bivouac of the Dead: Ambrose Bierce's Civil War in West Virginia; You've Got To Have Love Songs, Too: The Softer Side of Hasil Adkins. Issue authors: Kyle Warmack, Eric Waggoner.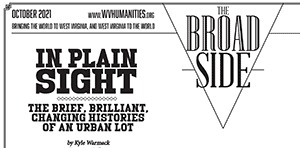 October 2021 Articles: In Plain Sight: The Brief, Brilliant, Changing Histories of an Urban Lot (Henry Elden, architect); Ghosts of Memory: Agnes Howard Hall's Historic Haunting (West Virginia Wesleyan College) . Issue authors: Kyle Warmack, Eric Waggoner.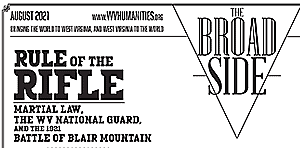 August 2021 Articles: Rule of the Rifle: Martial Law, the West Virginia National Guard, and the 1921 Battle of Blair Mountain; Hardy County's Crossroads (Smithsonian exhibit); Battle of Blair Mountain Centennial. Issue authors: Billy Joe Peyton, Michele Moure-Reeves, Council Staff.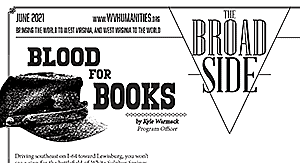 June 2021 Articles: Blood for Books: The Battle of White Sulphur Springs; Beverly's Civil War graffiti; A look at the dime novel The Wolf Demon, or The Queen of the Kanawha; Booker T. Washington's Malden Memories.
Issue authors: Council Staff, Eric Waggoner, Kyle Warmack.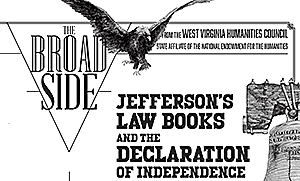 April 2021 Articles: Jefferson's Law Books and the Declaration of Independence; The Council's Legends & Lore Marker program; Family and Fracking in "Amity and Prosperity"; Davis Grubb's "The Horsehair Trunk": A Secret History.
Issue authors: Tim Sweet, Emily Hilliard, Stone Schaldenbrand, Eric Waggoner.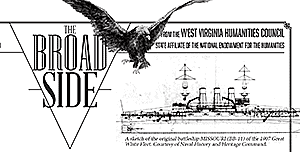 February 2021 Articles:  Introduction to The Broad Side (); A West Virginia Battleship Sailor's Story (); Documenting Huntington's Black History (); Introduction to the Mysterious Mountains podcast ().
Issue authors: Kyle Warmack, Dan McCarthy, Kelli Johnson, Council staff.