Betsy K. McCreight Lecture in the Humanities
The Board of Directors of the West Virginia Humanities Council established the annual McCreight Lecture in the Humanities to honor the leadership of Betsy Keadle McCreight, who died in 1985. McCreight was a founding board member, serving the Council as treasurer, vice president, and president. She believed that the humanities were at the heart of a democratic society, a necessary source of wisdom and vision.
Presented each October, the McCreight Lecture affords West Virginians the opportunity to hear nationally respected scholars and public intellectuals on a variety of humanities topics. McCreight Lecturers have included Ken Burns, Joyce Carol Oates, Joseph Ellis, Sylvia Nasar, Henry Louis Gates, Elaine Pagels, Gordon Wood, James McPherson, and Edmund Morris.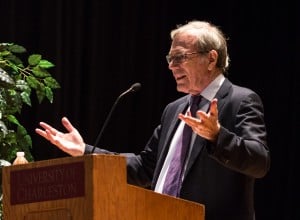 Pulitzer Prize-winning author and historian Eric Foner was our 2015 McCreight Lecturer. He presented "Civil War to Civil Rights: The Politics of History" on October 22 in Geary Auditorium at the University of Charleston's Riggleman Hall. Eric Foner is DeWitt Clinton Professor of History at Columbia University and one of the country's most prominent historians. He is a leading authority on the Civil War and Reconstruction periods. His book Reconstruction: America's Unfinished Revolution received the Bancroft Prize, Parkman Prize, and Los Angeles Times Book Award. The Fiery Trial: Abraham Lincoln and American Slavery received the Pulitzer Prize for history, the Bancroft Prize, and the Lincoln Prize. His latest book Gateway to Freedom: The Hidden History of the Underground Railroad was published in early 2015.