Betsy K. McCreight Lecture in the Humanities
The Board of Directors of the West Virginia Humanities Council established the annual McCreight Lecture in the Humanities to honor the leadership of Betsy Keadle McCreight, who died in 1985. McCreight was a founding board member, serving the Council as treasurer, vice president, and president. She believed that the humanities were at the heart of a democratic society, a necessary source of wisdom and vision.
Presented each October, the McCreight Lecture affords West Virginians the opportunity to hear nationally respected scholars and public intellectuals on a variety of humanities topics. McCreight Lecturers have included Ken Burns, Joyce Carol Oates, Joseph Ellis, Sylvia Nasar, Henry Louis Gates, Elaine Pagels, Gordon Wood, James McPherson, and Edmund Morris.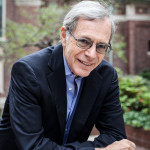 Pulitzer Prize-winning author and historian Eric Foner is our 2015 McCreight Lecturer. His 7:30 p.m. lecture on October 22 at the University of Charleston is free and open to the public.