Betsy K. McCreight Lecture in the Humanities
The Board of Directors of the West Virginia Humanities Council established the annual McCreight Lecture in the Humanities to honor the leadership of Betsy Keadle McCreight, who died in 1985. McCreight was a founding board member, serving the Council as treasurer, vice president, and president. She believed that the humanities were at the heart of a democratic society, a necessary source of wisdom and vision.
Presented each October, the McCreight Lecture affords West Virginians the opportunity to hear nationally respected scholars and public intellectuals on a variety of humanities topics. McCreight Lecturers have included Ken Burns, Joyce Carol Oates, Joseph Ellis, Sylvia Nasar, Henry Louis Gates, Elaine Pagels, Gordon Wood, James McPherson, and Edmund Morris.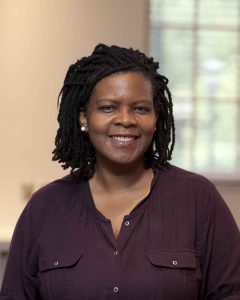 Pulitzer Prize and National Book Award-winning author and historian Annette Gordon-Reed presented "The Enigma of Sally Hemings: Race, Gender, and Slavery at Jefferson's Monticello" for the 2016 McCreight Lecture in the Humanities on October 27th in Geary Auditorium of Riggleman Hall at University of Charleston. A book signing followed the program which was free and open to the public. The event was sponsored by Bailey and Glasser law firm of Charleston.
Annette Gordon-Reed, a National Humanities Medal recipient, is the Charles Warren Professor of American Legal History at Harvard Law School, a professor of history at Harvard University, and formerly the Harold Vyvyan Harmsworth Visiting Professor of American History at the Queen's College, University of Oxford in 2014-2015.
Gordon-Reed won the Pulitzer Prize in History and the National Book Award for The Hemingses of Monticello: An American Family (W.W. Norton, 2009), a subject she had previously written about in Thomas Jefferson and Sally Hemings: An American Controversy (University Press of Virginia, 1997). She is also the author of Andrew Johnson (Times Books/Henry Holt, 2010). Her most recently published book (with Peter S. Onuf) is "Most Blessed of the Patriarchs": Thomas Jefferson and the Empire of the Imagination (Liveright Publishing, 2016).